Balls Out: Nu Vagis
Meet Balls Out Nu Vagis v0.0.3a
---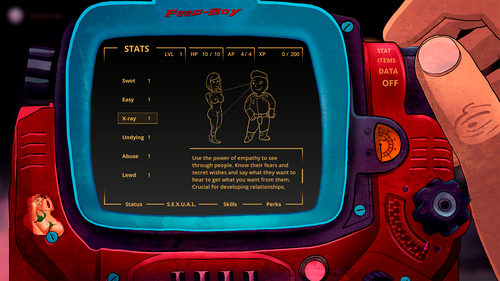 Our dear survivors!
Thank you for your patience and let's do it!
Today, as promised, we're going to test your Peep-Boys. The check list for testing is:
New active Peep-Boy screens: S.E.X.U.A.L., Skills, Perks, Weapons, Apparel, Aid, Misc and Quests with lots of buttons to click and info to read;
Peep-Boy common live data like date/time, location, etc.;
Pop-up messages on the main game screen showing you important info like new quests or parameter changes;
5 quests with tasks;
New choices in Chucky's Cave resulting in your skills' boost plus new micro dialogues after every choice;
Refined Guard Station scene: MC is no more obsessed by Lucky, he is just interested and worries for her health (lots of players were unhappy with this plot);
Some optimization for PC/macOS/Linux versions;
And the first build for Android!
All data is already live. To check it, please, start a new game. We've updated the existing scenes to bring you more interactive gameplay and the choices you make can start or finish a quest now or influence one your parameters like S.E.X.U.A.L. or skills, so you won't get bored. Plus, you'll get lots of pop-up messages concerning the quests and skill/parameter changes that will help you get your bearings.
When choosing your favorite skills, please, open your Peep-Boy and read skills' descriptions at STATS/Skills page. You can do this in advance or just before choosing a skill. Peep-Boy is available to you at any time.
Some words about Android version.
We're new to this platform and haven't spent enough time with it as developers, so the app is not properly optimized, especially in size (800+ Mb), it takes a long time to start and it may crash at some point. But, in general, it's working just fine, so you'll have the same gaming experience playing it from your Android device as PC/macOS/Linux users have.
While installing the game from an apk file you'll be asked to give permissions to the app. This is needed for loading and saving. So, please, give B.O.N.V. app all the necessary permissions.
The very first Android version is distributed 'as is' and free for everyone as we need to test the game on a number of different devices to make it more stable and playable. We hope you'll understand and provide us with your precious feedback.

Thank you for your support! You're simply the best.
Yours, Peepboy Co
Files
Balls Out: Nu Vagis 0.0.3a (PC)
806 MB
81 days ago
Balls Out: Nu Vagis 0.0.3a (MACOS)
816 MB
81 days ago
Balls Out: Nu Vagis 0.0.3a (LINUX)
809 MB
81 days ago
Balls Out: Nu Vagis 0.0.3a (ANDROID)
824 MB
81 days ago